The cold-pressed Black Cumin Seed Oil organic has a brownish colour and an intense spicy scent. It has a high content of linoleic acid, contains the rare eicosadienoic acid and essential oil which protects against oxidation.
Organic Black cumin seed Oil regulates the moisturisation and strengthens the skin barrier. The essential oil has an anti-allergic, anti-inflammatory and antibacterial effect. Black Cumin Oil organic is added to various base oils as an active oil for skin and hair care. Ointments and massage oils with black cumin oil ease muscle tension and have a pain-relieving effect.
Black cumin seed  carrier oil has a high amount of A, B, and C Vitamins and minerals including potassium, copper, zinc and selenium. It blends well with citrus and herbaceous scents in massage blends.
Ingredient Composition: Palmitic acid: 10-15%, Oleic acid: 18-30 %, Linoleic acid: 50-65 %, Eicosadienoic acid: 2-3,5%
CAS NUM: 8014-13-9
INCI NAME :  Nigella Sativa Seed Oil
Recommended Usage:  1-100%
Appearance: Light amber Color with somewhat nutty, bitter, pungent odor
Extraction Method: Cold Pressed, Unrefined
Country of Origin: India
Application: multi-purpose oil especially for skin problems.
Packaging: Our Oils are packaged in airtight plastic containers (Bottles) to avoid spillage
Recommended Storage: This Oil should be stored in cool temperatures away from direct sunlight and moisture in an airtight container. This oil has a shelf life of 24 months when stored properly
DISCLAIMER: All SOPHIX NATURAL PRODUCTS are for external use only unless otherwise STATED. This information is not intended to diagnose, treat, cure, or prevent any disease.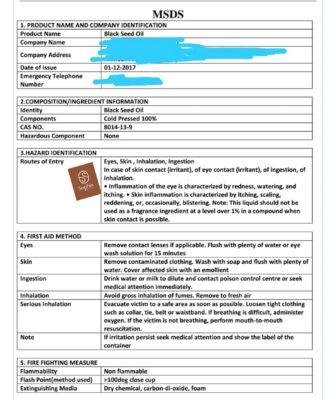 | | |
| --- | --- |
| Weight | N/A |
| 5 | 100ML, 250ML, 500ML, 1Liter, 5 liters |